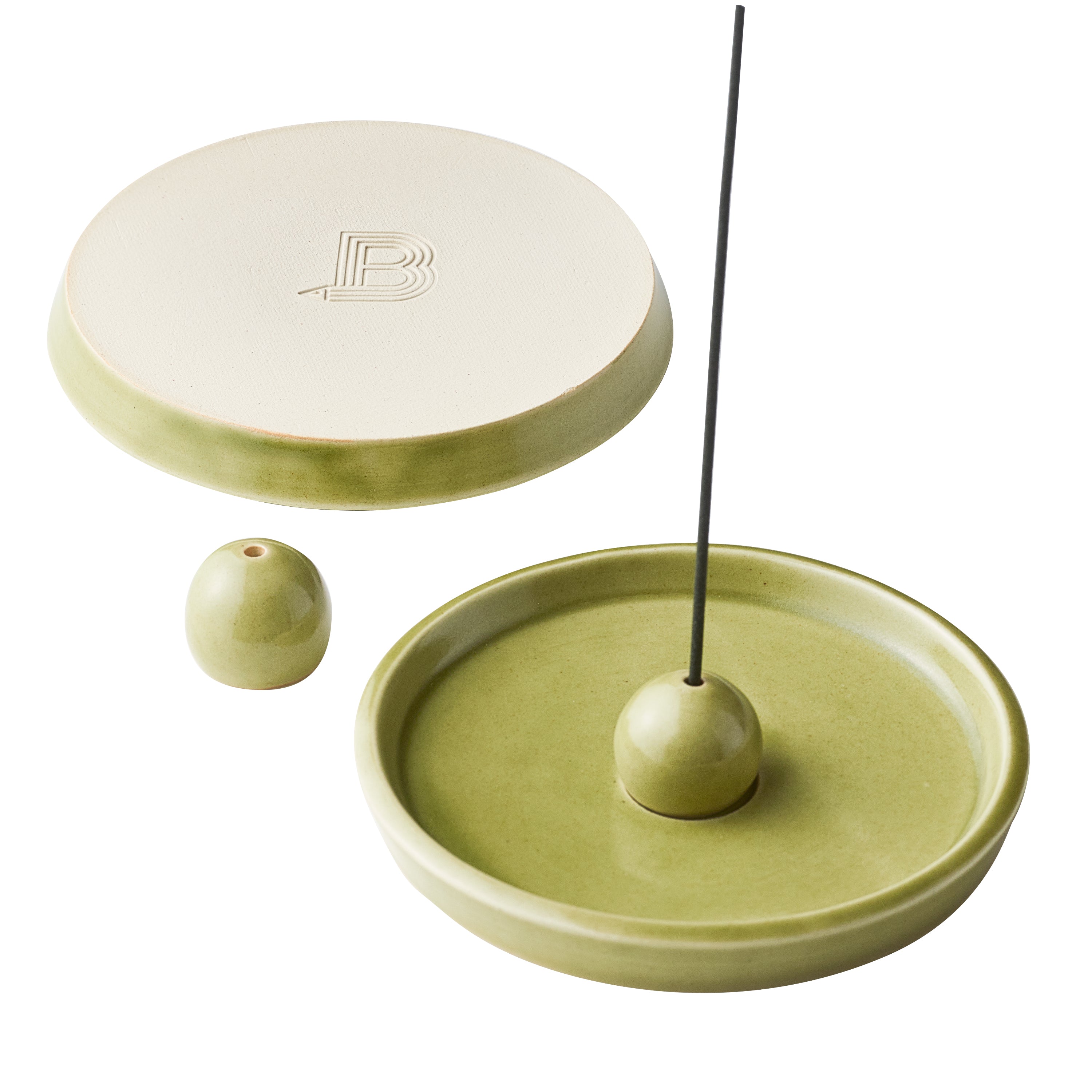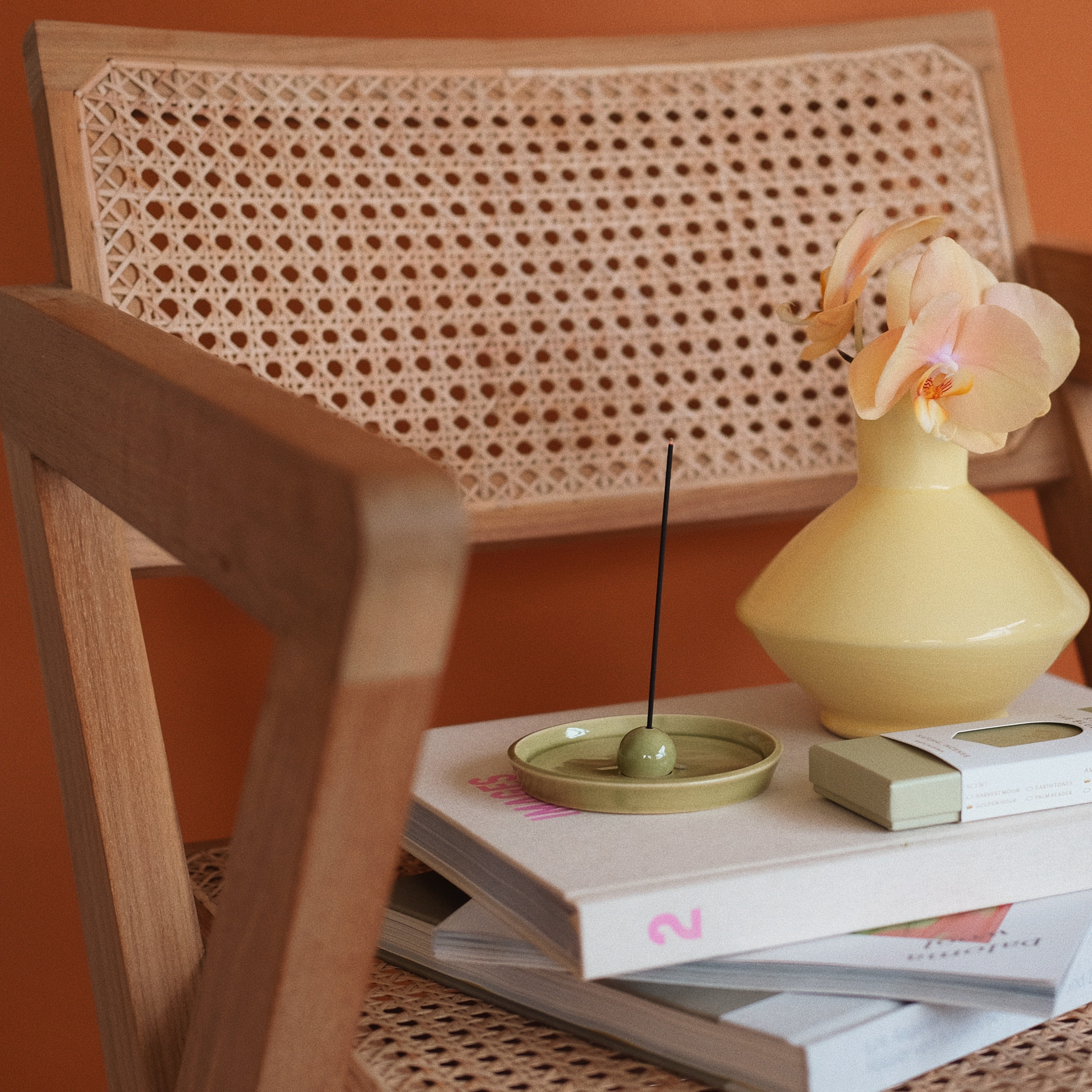 ORIGINAL INCENSE HOLDER - Khaki -
---
ORIGINAL INCENSE HOLDER - Khaki -
STUDIO THE BLUE BOY's new incense plate and detachable holder; inspired to be made by the brand's original incense.
STUDIO THE BLUE BOYのお香シリーズからインスパイアされた、
受け皿とお香たて部分の取り外しが可能なお香立てが発売。 この商品は、受け皿、お香たて(球体部分)がついてきます。
This is our original incense holder; each one of them uniquely handcrafted by the potters in Kyoto, Japan.
The brand's iconic B logo is stamped on the bottom of the plate.
The ball shaped holder can be detached from the plate, which allows the unburnt tip of the stick to be easily removed from its hole.
*The incense will not burn thoroughly—The tip of the stick will remain unburnt in the hole of the holder.
*The residues of the incense may leave stain around the hole.
*The residues of the incense may not be removed smoothly from the hole.
*The round-candy shaped incense holder and the plate are deftly designed for STUDIO THE BLUE BOY's original incense. Please do not use the holder replaced on a different plate. The holder is detachable. For those concerned with the stability, we recommend attaching the holder to the plate with the adhesive PET film provided in the package.
京都・日本の陶芸家によって一つ一つ丁寧にハンドメイドで作られたオリジナルお香たてです。
後ろにはSTUDIO THE BLUE BOYの「B」ロゴが刻印されております。
受け皿と玉は取り外し可能となっており、燃焼後簡単に不燃焼部分をそのまま穴の下から取り出すことが可能です。
※玉が支えとなっているため、完全燃焼はせず不燃焼部分が残ります。
※お香の成分が溶け玉の穴部分に着色する場合がございます。
※お香の成分が溶け玉の穴から残りの部分が抜けづらい場合がございます。

飴玉の形をした玉と、受け皿はSTUDIO THE BLUE BOYのお香のためだけに設計されたオリジナルのお香立てのため、付属の玉をお手持ちの受け皿等に乗せ使用することは避けてください。玉と本体の受け皿は接着されておりません。安定が気になる方は、転倒防止のため付属の粘着PETフィルムを受け皿に貼りつけることをお薦めいたしております。
【About International Shipping】
【内容量】 インセンスホルダー (受け皿 / 香り立)130g 
※安全面を考慮し、飴玉型をした香り立のサイズ、また底の部分のデザインが多少変更となっており、写真と現物が異なります。あらかじめご了承くださいませ。
Size : Ceramic Plate
Φ
115mm / Ball 
Φ25mm

【Instructions for use】
About Incense holder
・The item is handmade, therefore, each plate and holder is unique, and may vary slightly in shape and color.
・Handle with care: It may crack or break if dropped or knocked against a hard surface.
・Place it on a heat-resistant surface when burning incense.
・Position the item away from flammable objects.
・Please contact us for refund/replacement of a faulty product (e.g. Wrong color, size, etc...)—We will advise as soon as possible.
・The ball shaped holder is detachable, small and light: Make sure to position it correctly to stand the incense stick.
・Keep out of reach of children.
・Do not place the item on an unstable surface as the incense may fall outside of the burner plate and cause fire.
・Never leave the burning incense unattended.
・Make sure to completely extinguish the incense when leaving the house.
・The ball shaped holder and plate are designed to be used as a set. Do not use another burner plate with the holder as the size may be insufficient to catch all the ashes.
・If the residue of the unburnt incense is stuck in the hole, poke it out gently with a toothpick or needle.
・Discard the ashes and clean the incense burner frequently.
・Hand wash only: Do not put it in the dishwasher as it is a delicately made ceramic product.
About Incense
・The incense will burn anywhere from 20 to 30 mins. ・The product is made from natural ingredients, and delicately brittle than typical incense sticks. ・Light the tip of the incense stick, blow out the flame and let it burn. ・Burn the incense in an incense burner/holder or a non-flammable container. ・Great care is required in handling fire. ・Keep out of reach of children. ・Preserving the incense in humid moist areas for a long time may cause mold growth. Recommended to open the storage or box once in a while for ventilation.

【使用上のご注意】
-お香立てについて-
・完全燃焼までにおよそ20-30分かかります。 ・天然原料使用のため、通常の線香よりも脆く仕上がっております。 ・お香の先端に火を付けたら炎を消してくゆらせて下さい。 ・香炉や香立など、容器は不燃性ものをお使いください。 ・火の取扱いには充分に気を付けてご利用ください。 ・お子様の手の届かない所へ保管するようお願いします。 ・湿気の多い場所に長く保管するとカビの原因となります。 保管する引出や箱等を時々開けて 通気させることをおすすめします。